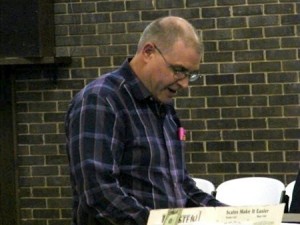 The Granite City Community Band is an open organization that accepts members from high school age on up. The band is run by a board, elected by the members of the band. The current band board is:
President – Lisa Hartley
Vice President – Mary Liszewski
Secretary – Frances Ellis
Treasurer -Bob Auer
To contact the board through email, please use board@graniteband.com.
Our Music Director and Conductor is Butch Mestemacher, director@graniteband.com.
Swing Band Manager
 If you are interested in hiring out the GC Swing for your event or dance, please contact one of the Board members or the Director.
Postal Mail
The postal mail address for the band is:
PO Box 441
Granite City IL 62040
Web Master
To get in touch with the webmaster, please use webmaster@graniteband.com. Suggestions, pictures, and corrections are more than welcome!
Copyright
We strive to respect the copyright laws and the rights given to composers, performers, authors, artists, publishers and recording companies. Therefore any protected material, including but not limited to samples of recorded music, digitized photographs and graphics, and text will be given proper credit if such supporting documentation is available. If you are the owner of copyrighted material that is posted on this web site and you claim the posting of said material is in violation of current copyright and fair use law, please contact the webmaster and the items in question will be promptly reviewed. We present any information, music or graphics on this web site in good faith and are not liable for any damages, real or perceived, that may occur from this web site using such material.
We appreciate any and all contributions of the many individuals that donate photographs for use on this website. Please E-mail the webmaster if you have questions about the photographs used on this site.
Save